PhD Students
The Unit is investing strategically in building capacity and capability through 5 PhD studentships for African students, adding value to the existing LSTM-led MRC funded Doctoral Training Programme in Global Health. The 5 PhD students will benefit from a structured training programme offered within supportive environments with established management and governance structures for high quality supervision and mentoring.
The PhD students are:
Brenda Mungai
Irene Ayakaka
Jacqueline Kagima
Martin Njoroge
Stephen Mulupi
Post-Doctoral Researchers
The Unit has also recruited 5 post-doctoral scientists based in LMIC partner organisations or at LSTM. Strengthening LMIC partner research infrastructure and individuals' skills at all levels will help ensure future sustainability of investments in capacity and capability.
PATS MECOR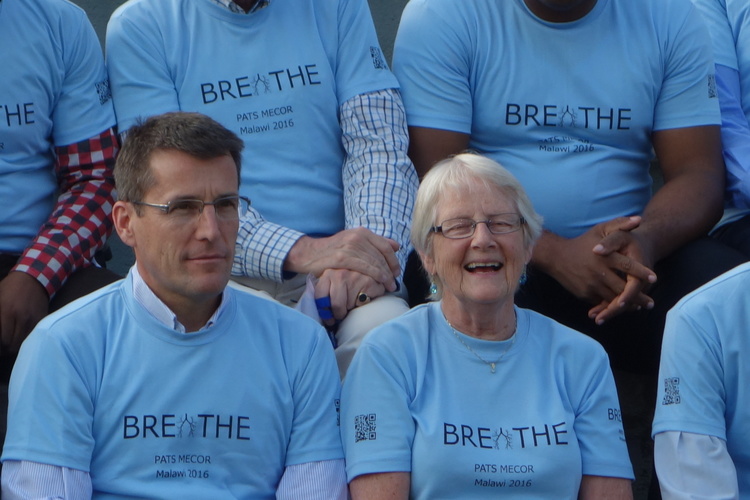 The Pan African Thoracic Society – Methods in Epidemiologic, Clinical and Operations Research (PATS-MECOR) course.
PATS-MECOR comprises face to face 1 week courses to provide intensive short training to strengthen skills and build capacity for clinical and epidemiological research in lung health in Africa.  The course has different levels through which students may be progress starting at level 1 and ending at level 3.
The course was initiated by Professor Stephen Gordon of the Liverpool School of Tropical Medicine (LSTM) and is based on the successful American Thoracic Society (ATS) MECOR programme. The specific needs identified for the course in Africa were:
Insufficient capacity to collect and interpret country/local specific data,
Insufficient understanding of research appraisal of the literature, and most critically,
Insufficient numbers of public health, academic, and clinical leaders to support and facilitate research and its application to public health and health care related to respiratory diseases and critical care medicine.
The course is designed for pulmonary clinicians, investigators, and academicians to provide training in research methods. Three workshops run concurrently for a period of one week each year.
Level 1: Measuring the Burden of Disease –  during level 1 training workshops students learn how to develop a study plan, choose the study subjects, plan measurements and prepare and estimate sample size and protocol development. No prior research experience is required for level 1
Level 2: Advanced Clinical Research Methods - Students learn about study designs, such as, Experimental, Observational cross-section, Observational case-control and how to research data. Students must have attended level 1 to progress to level 2. 
Level 3: Further research skills, grant and paper writing – Students bring details of a draft paper and research question that they would like to work on at Level 3. The training workshops address ethical issues, designing questionnaires, interviews and on-line surveys, as well as, data management, quality control and writing a proposal for funding research. To be accepted on to level 3 students must be able to demonstrate how Level 1 & 2 PATS MECOR courses have advanced their research career.
The first workshop was held in Blantyre, Malawi in 2007 and continued to be delivered there until 2009. From 2010 to 2015 the course was held at Brackenhurst International Conference Centre, Limuru, Kenya were the programme received invaluable support from the Kenya Medical Research Institute (KEMRI). In 2016 the course returned to Malawi and was held at the College of Medicine (CoM), Blantyre supported by staff at the Malawi Liverpool Wellcome Trust (MLW).
The next PATS MECOR course will be held in Durban, South Africa from the 16th - 20th April 2018 with Dr Kevin Mortimer as the new course director.  Applications for the 2018 course have now closed. Applications for the 2019 course in Dar es Salaam in Tanzania will open mid to late 2018.
We are pleased to announce that funding has been secured from NIHR Global Health Research Unit on Lung Health and Tuberculosis in Africa at LSTM, the MRC GCRF Lung Health in Africa across the life course grant and the Aldama Foundation which will allow us to run PATS MECOR for the next 4 years. PATS MECOR is led by PATS through the PATS EXCO.