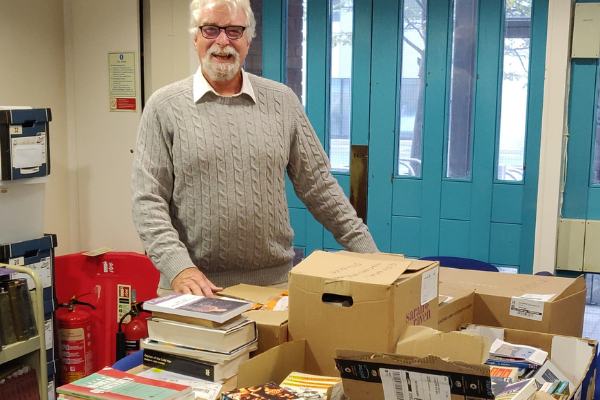 LSTM bids a fond farewell to Professor Barry Munslow, who worked as a consultant on the Humanitarian programmes of LSTM alongside Professor Tim O'Dempsey.
Barry is now retiring after 20 years of service, having taught modules on a range of topics including the political economy of humanitarian emergencies, conflict, sustainable development, climate change and health, and the role of media, policy, and advocacy. Twenty years ago, humanitarian studies were not widely taught within the UK and, as such, LSTM pioneered the launch of these subjects utilising the expertise of Barry and Tim and creating a cadre of people able to use their skills in humanitarian settings throughout the world..
To commemorate his retirement, Barry has donated his entire library covering the broad breadth of topics he taught at LSTM. He always encouraged his students to follow their passions supporting them in exploring what interested them the most. He would often supervise up to a dozen MSc. dissertations each year, also supporting the student-led national Humanitarian Studies conference held annually at LSTM during which the Munslow Humanitarian Award would be donated as a prize. He will also be fondly remembered by his students for, not only the stimulating sessions, but also for the cakes! The Cake Club was formed at the start of each new module with cakes being brought in by Barry. The popularity of Cake Club resulted in students volunteering to bake cakes throughout the modules.
Barry said: "It has been a pleasure to work with Tim O' Dempsey and all our colleagues in the Education Department to help establish humanitarian studies in the UK. We leave the humanitarian studies initiative in the safe hands of Imri Schattner-Oman. As ever we rely on our past students to spread the word to others about what we can offer in our courses and how exciting and rewarding work in the humanitarian field can be".
LSTM also bids farewell to Dr Tim O Dempsey, Head of Humanitarian Studies. Both Barry and Tim worked as a dedicated team throughout their time at LSTM and introduced the six-week Diploma in Humanitarian Studies in South Africa, which ran for 5 years. A fond memory of their time running this course, happened the first year the course was held at Kruger National Park where lions would be spotted prowling the accommodation in the evenings!
For more information on or to register you interest on for the Humanitarian Studies program click here. 
Did you study on the Humanitarian programme? As part of our 125-year anniversary celebrations, we are asking our global community to get involved by sharing memorable stories of your time with us.