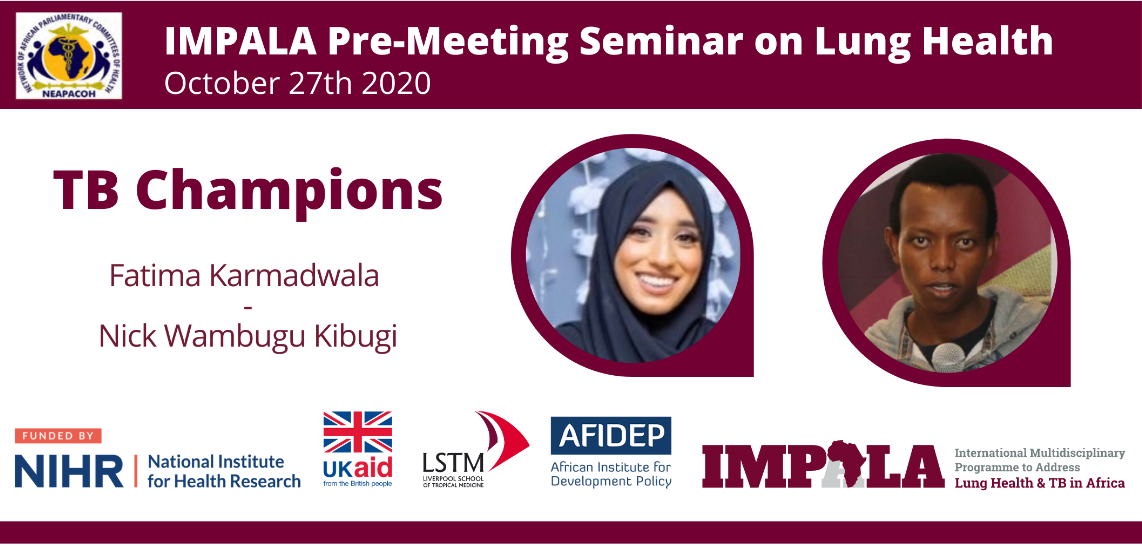 My name is Fatima Karmadwala and I am currently studying a masters in International Public Health at the Liverpool School of Tropical Medicine. During my undergraduate degree, I was diagnosed with Multi-drug resistant tuberculosis (MDR TB). Treatment consisted of 50 days of isolation, 8 months of IV through a PICC line and 594 days of daily oral medication. Life as a university student and living away from home drastically changed from what I imagined the student life to be. I was adamant that I didn't want to miss out on my education which lead me to being able to continue with university and travelling to the hospital 3 times a week for the IV therapy as well as completing 2 semesters in 1 semester. Side effects of the medication limited my livelihood and activities that I was able to do. The feeling of severe pain and isolation were a combination I constantly battled on my own and with support of hospital staff and family and friends.
After a long and extremely difficult 594 days and tackling side effects, I was free of this deadly disease. I was MDR TB free. Being so invested in my own health condition, I realised that this is what I wanted my future to be; I wanted a career in the field of working with people with tuberculosis and make the system better for those suffering with the same health condition. Advocating through LSTM and being able to share my story through the Annual General Meeting in 2019 gave me the confidence that I needed to be proud of my survival story and increased my want to make life better for those that struggle in times I struggled and needed assistance myself.
I recently had the pleasure of networking with a fellow TB champion, Nick Wambugu from Kenya who was preparing a patient testimony to deliver to members of parliament at the 2020 NEAPACOH meeting as part of a special IMPALA seminar. The communication between myself and Nick consisted of a few online sessions in which I mentored him and guided his speech to ensure he was getting his story across in the best way possible. Working with Nick was a great experience as it was amazing to see his development from our first call up until the day of his speech. His self-confidence grew each time and regardless of the stigma, we battled through his thoughts and feelings about not being able to share his story due to fear of being judged. Definitely an experience I will always remember!
Although it has been 6 months since I finished my MDR TB treatment, I still struggle a huge amount with side effects and being under investigation to help cure these issues is still a huge part of my daily life. I suffered several setbacks in the production of this blog due to severe abdominal discomfort, however, I have accepted that this is a part of being a TB champion. I live with the constant hope that one day, living a pain free life is possible and I look forward to taking on all the opportunities that come with being a post-TB patient and helping others in similar situations through my personal journey.
Nick Wambugu's story 
I had a brilliant experience as I shared my story about my experience as a TB champion. This was all successful through mentorship from Fatima who prepared me through video calls online on what was expected of me and how to deliver it effectively. I have always had phobia where a large audience is concerned but this time I was confident. She mentored me so well and I have to say the speech went so well. It boosted my confidence so much. Her guidance and approachability was awesome and I enjoyed working with her. It was so easy to share my experience with the seminar audience and I felt happy to share my story on behalf of TB patients and what we face during the tough sickness and afterwards. I strongly feel that my speech will help leaders and health care providers improve on how they work with TB patients as they are now aware of what these people go through hence the this is a great input towards the general public. As a TB champion I was very humbled by the opportunity to air my story on behalf of people like me. The experience has given me the desire to take up future opportunities to work with IMPALA and other related organisations in this fight against TB.
Background: In a special seminar on October 27th organised by Partners in Population Development (PPD-ARO) and The African Institute for Development Policy (AFIDEP), IMPALA researchers were invited to give evidence to parliamentarians ahead of the 2020 NEAPACOH meeting.