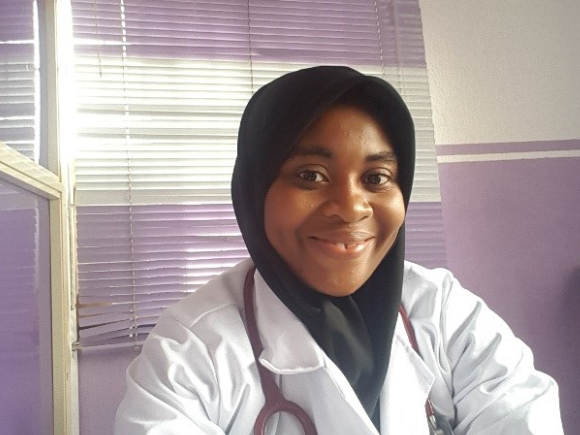 Fatimah Animashaun (MSc Global Health)
26-year-old Fatimah, a primary care Medical Doctor living in Nigeria, is currently studying at LSTM on the MSc Global Health programme on a Mamco Selab Scholarship award. 
Career development
The youngest of a family of four, Fatimah has always valued the importance of education for continued professional development.  
"I know the importance of continued learning in my field of practice, that is why I will find any opportunity to learn to better myself and make well informed to make good choices for myself and my community."
Making a difference
Her dream is to become a global health leader equipped with the skills to tackle the problems that are not only are faced in her community, but across the world.  It was this that inspired Fatimah to enrol on the online MSc Global Health programme her at LSTM.
No stranger to online based learning, Fatimah has received has successfully completed a number of online courses, including Nutrition at the University of Aberdeen and Health in Humanitarian Crises at London School of Hygiene and Tropical Medicine. 
"I chose to study at LSTM because the school's mission to break the cycle of poor health and poverty through education. As I come from a low resource country, I have seen first-hand the effects of poverty has had in my country."
Financial support
In her current situation, Fatimah knew that she would need the financial support to enrol on the course. "It would have taken me a very long time to save up the money to fund my master's programme." Knowing this, Fatimah applied for a Mamco Selab Scholarship to cover her tuition fees.  Her application was successful, and the award has fully covered her fees.
On received the award, Fatimah said: "I sincerely thankful for the scholarship award which has given me the great opportunity to study at LSTM. I pray that one day I will be in a position in the future to sponsor others to have a great education."
Read more
 scholarship stories.