A 5-step pathway to design a capacity strengthening programme
We have a number of video presentations explaining our approach: 
The CRU pathway first ensures there is a demand for change, then identifies explicitly the capacity required to achieve clearly defined goals. Strategies for promoting sustainability of the new capacity are agreed with partners and incorporated from the outset. The pathway focuses not only on technical, managerial and financial processes within organisations, but also on the individuals in those organisations and the wider system of co-ordination, financing and management. The robust but flexible action plan includes indicators for measuring progress. This 5-step approach is based on evidence from CRU's own and other research, and has been tested and critiqued in diverse organisational settings. It requires partners, in collaboration with CRU, to: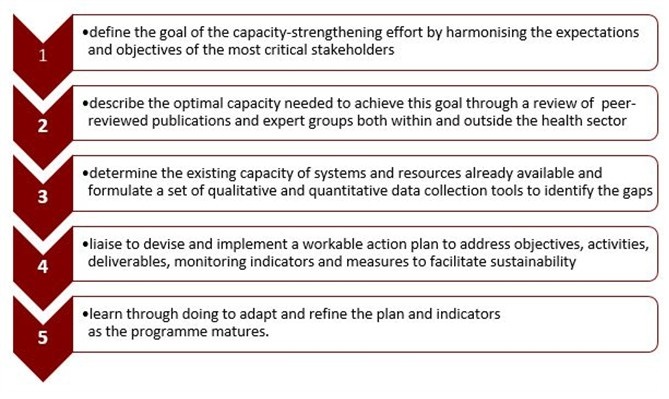 CRU's pathway is based on an explicit theory of change, and defines all the outcomes, accomplishments, or preconditions required to bring about the long-term goal of enabling an institution to implement a sustainable research infrastructure. As the pathway is implemented, CRU continues to provide support in monitoring progress and revision of the plan. These built-in opportunities to learn lessons and improve means initiatives can be scaled up and become independently sustainable.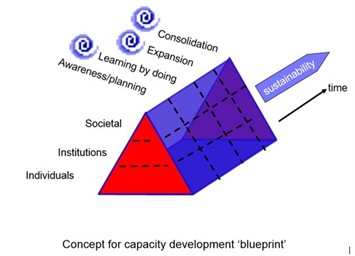 Factors associated with enabling sustainability are:
investment in core resources (such as people, funds, committees and systems)
institutionalisation of new capacity
ability to solve problems, make decisions and innovate.

 
Improving the evaluation of health research capacity strengthening means developing indicators which better define the relationships between partners. Find out more about evaluation design, documenting activities and outputs using indicators, and extracting them into a matrix across individual, institutional, and network levels to provide more robust evidence on outcomes.
A detailed outline of the CRU blueprint can be found in this paper.
Learn more about lessons and good practice in strengthening research capacity in low and middle income countries here.
Are you a grant maker? Learn more about good practice and lessons in Research Capacity Strengthening here.