I obtained a BSc. in Biology, from the University of Antioquia (Colombia), where I studied the biology of vector sandflies in a leishmaniasis-endemic area. This work was carried out in the research group "Program for the Study and Control of Tropical Diseases" (PECET) at the same university, where I continued for three years as a research assistant, participating in eco-epidemiogical studies of different leishmaniasis foci around the country.
During this time, I joined a PAHO/WHO/AECID funded project for the training of health officials Central America in the study of leishmaniasis foci, aiming to strengthen disease surveillance in the region through updated parasite and sandfly data, geographical information systems and improved leishmaniasis diagnostics. This work resulted in the elaboration of an updated leishmaniasis control guide for these countries.
At the London School of Hygiene and Tropical Medicine I earned a MSc in Medical Parasitology in 2013, where I worked on a project evaluating the efficacy of CDC traps for the study of phlebotomine sandflies in Orissa (India).
In 2014, I joined LSTM as a PhD student funded by the Colombian Department of Science, Technology and Innovation (Colciencias), under the supervision of Dr. Alvaro Acosta-Serrano. My project currently focuses on the sandfly salivary glycans (sugars) and their relevance in haematophagy and pathogen transmission.
Research
Salivary glycoproteins of blood feeding arthropods
The saliva of haematophagous arthropods modulates the microenvironment at the site of the bite to facilitate the ingestion of blood. In vectors of disease, the immune responses elicited by saliva can influence pathogen transmission. Moreover, saliva can sometimes trigger severe allergic responses. Since glycans affect protein conformation, half-life and antigenicity, they are likely to play important roles in the properties of saliva. The project currently focuses on the salivary glycome of medically important blood feeding arthropods, exploring the relevance of sugars in haematophagy and disease transmission.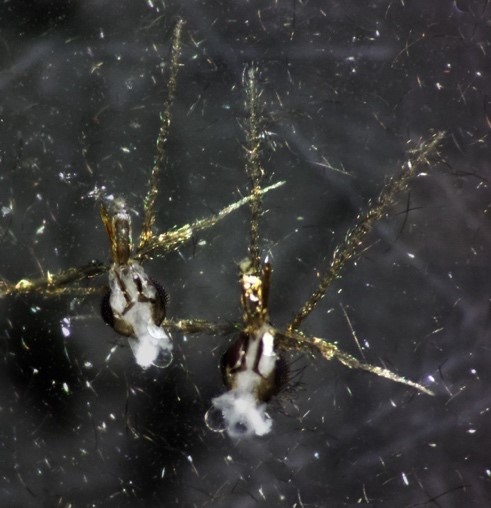 Dissected Lutzomyia longipalpis sandfly heads where salivary glands appear as clear bubbles attached at the neck.  The salivary glands are separated and pierced to release saliva.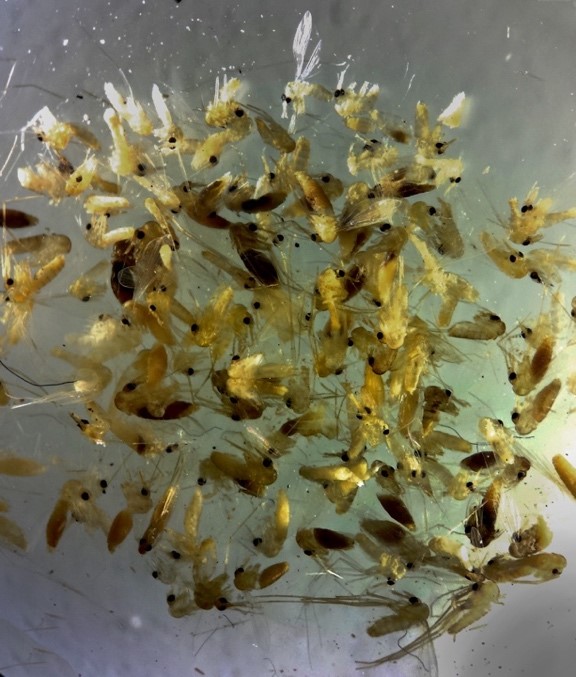 Exposure to sandfly bites in different endemic areas in Saudi Arabia
Vertebrate hosts develop antibodies against the different salivary components in the saliva of sandflies after several bites. Since saliva can be species specific, the level of these antibodies can be used to determine the degree of exposure to the different vectors in an endemic region.
Trends in Parasitology 2016 32, 432-435 DOI: (10.1016/j.pt.2016.03.003)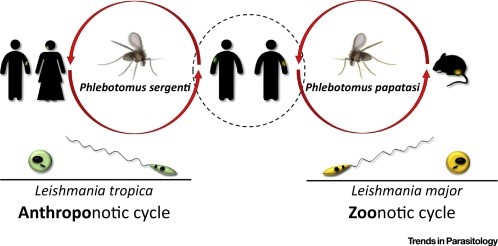 Teaching experience
Lecturer
Phlebotomine sandflies and sandfly-borne diseases – Theory and lab practical -  LSTM MSc course (2014-2016)
Phlebotomine sandflies and sandfly-borne diseases –  Theory - LSTM DTM&H course (2014-2016)
Leishmaniasis, phlebotomine sandflies and other sandfly-borne diseases – Short Course in
Tropical Pathogens and Disease Vectors (Ministry of Defence) (2015-2016)
DTM&H Regional Seminar for Vector Biology (2015-2016) 
Postgraduate Demonstrator (2014-2016)
Practical diagnostics course for the Diploma in Tropical Medicine and Hygiene at LSTM 
Field training
Sandfly collection, identification and insecticide bioassays (2016) - India 
Student mentorship
Supervised one MSc research project and dissertation, including training and supervision in the lab (2014-2015) 
Public engagement
LSTM insectaries and culture suite tours to media and on public open days
World Gin Day LSTM fundraising – St. Georges Hall, Liverpool (2015)
Exhibition for 'Creepy Crawly' days at the Liverpool Museum (2014)
Professional memberships 
Royal Entomological Society (2014 – present)
British Society for Parasitology (2014 – present)
Biochemical Society (2014 – present)
Awards 
2015 *1st place – Awarded for a poster presentation at LSTM postgraduate research day
2015 Conference Participation Fund - Royal Entomological Society (UK)
2014 *2nd place – British Society of Parasitology award for the best student talk
2013 Dr. Gordon Smith Travelling Scholarship - London School of Hygiene and Tropical Medicine (UK)
2012 Scholarship to carry out PhD studies overseas - Awarded by the Colombian Science, Innovation and Technology Foundation – COLCIENCIAS. Grant call number 529.
2009 Young Researcher Fellowship - Colombian Science, Innovation and Technology Foundation – COLCIENCIAS.
Workshops
2015 Biology of Parasitism: Modern Approaches. Marine Biological Laboratory – June-August Woods Hole, Massachusetts (US)
2014 Quantitative Proteomics and Data Analysis, Chester, UK
2014 ProteoMMX 4.0 Workshop, Chester, UK
2011 Ecological Determinants of the transmission of Vector-borne diseases. Fundaçao Oswaldo Cruz. Ministério da Saude, Brazil.
Conferences
2016 LSTM post-graduate research day – (Video presentation)
2015 Keystone Symposium "The Arthropod Vector: The Controller of Transmission", Albuquerque, New Mexico (US)– (Oral and Poster presentation)
2015 British Society for Parasitology Spring Meeting, Liverpool (UK) – (Oral presentation) *
2015 LSTM post-graduate research day – (Poster presentation) *
2014 British Society for Parasitology Spring Meeting, Cambridge (UK) – (Poster presentation)
2013 Fifth World Congress on Leishmaniasis, Porto de Galinhas (Brazil) – (Poster presentation)
2011 XX Congreso Latinoamericano de Parasitología y XV Congreso Colombiano de Parasitología y Medicina Tropical (Colombia) – (Oral presentation)
2010 26ª Reunião de Pesquisa Aplicada em Doença de Chagas e 14ª Reunião da Pesquisa Aplicada em Leishmanioses. Uberaba, Minas Gerais – (Poster presentation)